This 1238mm Wingspan Mini Skyhunter V2 (unassembled kit) is a middle-sized FPV airplane to the legendary Skyhunter airframe series. The Mini Skyhunter comes with a unique twin-boom tail wing design that makes flying super stable and agile. Moreover, SonicModell uses high strength carbon fiber reel pipe instead of a normal tube to help decrease the tail weight. This plane consists of EPO molded wing, fuselage reinforced by a carbon fiber tube, pre-cut hatches for FPV gear, which offer multiple mounting choices for your camera, VTX, GPS, and battery.
Note: Electronics, such as camera, motor, ESC, Servo, etc. are NOT included in the kit. Only in the PNP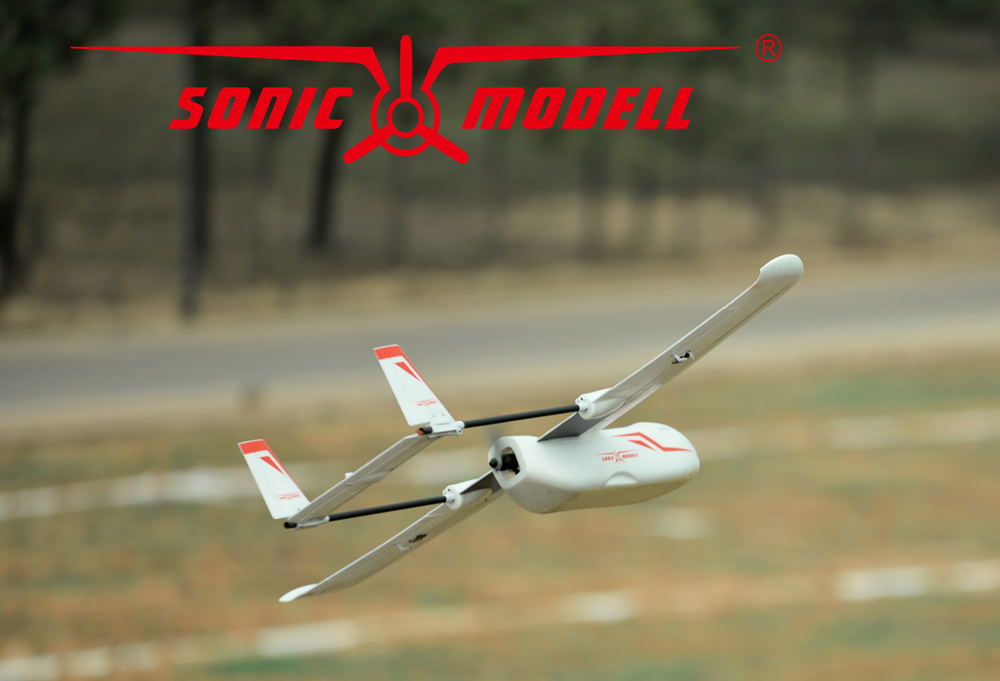 Features
Middle size FPV plane for mid-range FPV flying
1238mm wingspan compact size offers good portability and flexibility
Spacious room inside the fuselage with sliding equipment tray for FPV gear and big battery
Pre-molded 9g or 5g servos location for rudders if you plan on using them
Pre-cut hatches for gimbal / cameras / video transmitter / GPS
Multiple camera mount option, compatible for FPV and HD camera in the market
Molded hand grip for hand launch
Tail boom length adjustable for the best CG setting
CG: On the main spar (Slightly forward for maiden flight)
Unassembled kit easy for DIY purpose
Upgrade from Mini Skyhunter V1 to Mini Skyhunter V2(in order to reduce tail weight
1mm Carbon Fiber sheet instead of Fiber Glass sheet to reinforce the trailing edge of the main wing
Low-density EPO foam instead of normal EPO, light in weight but still stiff and solid
High strength but ultra-lightweight Carbon Fiber reel pipe instead of normal CF tube
New designed vivid decal, easy to see when flying FPV
Much smaller package to reduce weight and size, in order to save shipping cost.
Specifications
Brand Name: SONICMODELL
Item Name: Mini Skyhunter V2
Wingspan: 1238mm (48.74in)
Length: 855mm (33.66in)
Wing size: 19.5dm 2
Flying Weight: 830g
Wing load: 42g/dm 2
Recommended (Not Included in the KIT)
Motor: 2212 KV1400
ESC: 30A
Servo: 9g*3pcs
Propeller: 8*4
Lipo Battery: 11.1V 2200-3600mAh